Submissions from Readers
Numbness and pain in feet after my stroke
by Alfred Beltran
(Miami Beach)
Question: Earlier this year, I suffered an ischemic stroke in the right side of my brain; however, a small portion of my left side was also hit. I suffered paralysis on the left side of my face, slurred speech, paralysis of my left arm and left leg and I was bound to a wheelchair, I was 39 at the time. I have been blessed to have a wonderful family and an extraordinary wife. My wife took it upon herself to do the therapy on me herself along with help from my older brother on Saturdays. I was able to regain my face and speech back to 100%, I kicked the wheelchairs 3 months later and I started moving my entire left arm on the 5th month post stroke. I still have a deficiency on my left hand, I can't make an angry fist but I can open and close it. I have to say my worst deficiency though is the fact that I have numbness on the top of both feet and hypersensitive on the bottom of my feet. I also feel like a burning sensation and I can't run or walk speedy. I hate to complain about anything since I feel lucky enough to have recovered approximately 85% but my feet are killing me and I do get extremely depressed because of it and at times frustrated. The doctor doesn't know when I will regain this awful sensation. I have researched everywhere and I can't find a possible solution or anything that will help me recover. Has anyone had this problem or known of someone with this problem? If so, have you/they recovered from this and in what period of time? Was there a specific exercise that was done to regain the sensation? Please help if you can. Thanks!


Answer:
You can view
www.stroke-rehab.com/central-pain-syndrome.html
for more treatment information on the type of pain you are describing. One other option that is not listed on the page above is Anodyne therapy which is used for diabetic patients with peripheral neuropathy. I don't know if it would help with stroke pain, but you might look into it. As far as exercises, you could possibly try desensitization techniques such as vibration, massage, various textures used on a daily basis to decrease hypersensitivity. You could also try a TENs unit if your MD agrees to write a prescription, and you don't have any medical contraindications.
Foot Pain
by Diana
(MI)
Question: I'm 66 years old & had a left-sided stroke 12-18-2010. I've had no follow-up since then & have developed SEVERE foot pain & am at a loss as what to do for relief. My doctor placed me on Neurontin 300 mg TID but I have NO RELIEF & my b/p has increased since the stroke. The pain is 24/7 & my doctor now has I am at max dosage of Neurontin. It's hard to walk, even putting on socks/shoes HURT and my life is a living hell. I take vit B12 & also B complex & Mg which helps some. What can I do to regain NORMAL feeling in my feet/legs & right side. I function but it takes great effort. I want to get off all the drugs & feel whole again.

Answer: Hi Diana. Please see my answer and link above regarding foot pain and treatment options.
Foot Pain After Stroke
by Kathy
(Riverside,ca usa)
Question My husband has severe foot pain after having a hemorrhagic stroke. Walking is difficult and the foot slides and is rubbed as he says "raw". There is no visual indication of skin being rubbed raw. It looks normal just the same as his other foot. Please help us with an answer.

Answer: Your husband may have what is called post stroke pain or central pain syndrome that is characterized by a deep burning and/or pins and needles sensation. Post stroke pain can be difficult to manage and may or may not respond to medication. I would have your husband visit a pain clinic where he can find a MD that specializes in dealing with pain disorders. Some treatments used include medication, injections, repetitive transcranial magnetic stimulation or deep brain stimulation.

Sometimes pain can be caused by spasticity or muscle spasms. If that is the case then you can ask your husband's neurologist to prescribe medication or consider injections to decrease the spasticity or tightness.
Numbness following stroke
by Tony Lodge
(Renfrewshire, UK)
Question: I have difficulty sleeping due to numbness and burning sensation in my right foot and leg. My stroke was 10 years ago on my left side.

Is there anything I can do to give me relief from this condition particularly at nightime?

Thanks

Answer: Unfortunately, pain after stroke can be difficult to manage. Some current treatment techniques involve medications (antidepressants and anticonvulsants have been helpful for some), deep brain stimulation, and motor cortex stimulation. One thing to consider since you are having an increase in pain at night is to make sure having the sheet or covers on your feet is not causing the pain. After stroke, stimuli that normally wouldn't bother someone can cause pain. I've worked with patients that have neuropathy that can't tolerate a sheet on their feet so that is something to consider.

It can sometime take meeting with several physicians before you find one that listens and is dedicated to helping you control your pain. As noted in the question above, I strongly encourage you to visit a pain clinic and MD that specializes in working with nerve pain.
Hot pain in back hips and right leg
by Raymond Beadle
(London)
Question: Since my stroke 20 months ago, I've experienced hot right side leg and foot pain. It is extremely hot and I can only walk for a few minutes before the pain re-occurs. Can anyone help to diagnose my symptons? I've had a MRI scan and it was clear, but my symptoms still occur on a regular basis

Answer: I recommend reading the webpage devoted to central pain syndrome at www.stroke-rehab.com/central-pain-syndrome.html
Freezing and Burning Feelings Post Stroke
by Bongi Linda
(Muizenberg, Capetown, SA)
Question: I had a stroke in 2006 (CVA l hemiplegia) my left side still weak and thinner. I limp which now I accept. The problem is even on a sunny day sometimes it feels freezing cold but at night when I'm in bed once I start to feel warm I need to take my legs out of blanket because it feels like burning and the vein become thick.

Answer: It sounds like you may have Central Post Stroke Pain (CPSP). You can read more about it at https://www.stroke-rehab.com/central-pain-syndrome.html
Pain
by Leigh Goggin
(United Kingdom)
Question:Why all of a sudden do I have pain under my foot on my paralyzed left leg ten years after stroke just before my small toes?

Answer: I'm not sure why you would develop pain in your foot after ten years nor if it's even due to the stroke. If your toes are developing spasticity (increased tone) or are curling, then it may be a good idea to consult with an orthotist to see if there is some type of orthotic that would help. Some people have had relief by using orthotics such as toe crests or metatarsal pads.


After a stroke I have pain at the side of my foot when trying to walk
by Andrew Owusu
(Pittsburgh,PA)
Question: When walking, my feet seem to curl making me land on the side of my feet. Will an AFO help?

Answer: It won't get rid of pain, but an AFO may help the foot land straight. If you have tone in the foot, the AFO will not get rid of the tone so that would need to be addressed. I would visit with the doctor to see if tone is an issue and if something can be done and also ask for a referral to a PT and orthotist to see if an AFO would be appropriate. If it's your toes curling rather than your foot, then you may want to look into foot orthotics rather than orthotics for the ankle.
Treatment Tips from Others 
To see tips from other survivors and caregivers about their treatment recommendations, click here.
Newsletter Sign Up
Stroke Rehab Guide
--->PDF Download<---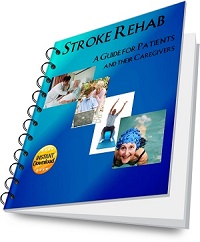 Shop Rehab Products at Amazon
As an Amazon Associate I earn from qualifying purchases.
DISCLAIMER: THIS WEBSITE DOES NOT PROVIDE MEDICAL ADVICE. All content on www.stroke-rehab.com is for informational or educational purposes only, and does not constitute professional medical advice, diagnosis or treatment. Always seek the advice of your physician or other qualified healthcare provider regarding your healthcare concerns, and never disregard professional medical advice or delay in seeking it because of something you have read on this website. See the disclaimer and privacy policy page for more information.

After a stroke I have pain at the side of my foot when trying to walk