Adaptive Equipment 
Medically reviewed by Karen Murray, OT, CHT, CSRS - written by Stroke-rehab.com
Adaptive equipment is used to help stroke patients have greater independence with everyday life skills or activities of daily living. There is a large assortment of assistive devices for all areas of self care including dressing, bathing, grooming, cooking, feeding, toileting, and mobility aids. 

Stroke Rehab Guide

--->PDF Download<---
There are also assistive technology devices to help with communication, using a computer, operating household devices, and driving. Various medical and personal care equipment choices can be found below.
If interested in purchasing adaptive equipment, you can visit websites such as www.simplymedical.com, www.thewrightstuff.biz, www.carex.com, and many more. You can also find equipment on Amazon.com  Make sure you know the return policy before ordering any equipment. Many types of medical and bathroom equipment items are non-returnable due to sanitary reasons. This means you should research equipment before buying and make sure it is the right equipment for you, has good reviews, and will fit in the space needed if applicable. If you are interested in finding clothing for a stroke patient which allows for easier dressing such as donning pants from a seated position, please visit this adaptive clothing page. You can search various websites to compare prices and get the best deal on adaptive equipment. 

Click on any of the pictures below to get pricing information on that specific equipment. Stroke-rehab.com does not sell equipment directly but instead this page contains affiliate links. If you choose to purchase after clicking a link, we may receive a small commission at no extra cost to you. Your price is not raised by clicking on Amazon or other links on this page. The price is the same whether you go through this website or directly to the selling website. Stroke-rehab.com's goal is to offer suggestions for quality equipment that is beneficial to stroke patients.
As an Amazon Associate I earn from qualifying purchases.
Mobility Devices
Rolling Walkers - If the stroke victim has use of both arms and legs but still presents with some balance problems or slight weakness then a rolling walker may be appropriate. One must be able to push forward with both arms to operate a rolling walker. The most common are 2 wheel walkers and rollators (4 wheel walker with a seat).

Hemi-Walkers and Quad Canes - When the stroke victim is paralyzed and does not have good use of one side such in the case of hemiplegia or hemiparesis, then a hemi-walker or quad cane may be needed. These types of mobility aids have a wider base of support than a single tip cane thus providing more support but not requiring the use of both hands to operate. Both small base and large base quad canes are available depending on the amount of support needed. One drawback to a hemi-walker or quad cane is that the stroke victim mostly relies on the non-affected side for walking and does not incorporate using the weak side as much so one must remember to continue working on exercises and weightbearing to the weak side to prevent neglecting these muscles.  

Single Tip Canes - If the stroke patient only needs minimal support for steadying, then a single tip cane may be appropriate.
Wheelchairs and Scooters - Many stroke victims will need a wheelchair due to limited mobility. A hemi wheelchair is a special wheelchair which can be adjusted lower to the ground and allow the ability to operate it with one or both feet. Wheelchairs can also be fitted with a special mechanism allowing them to be driven with one hand. Electric wheelchairs and scooters are also available some which can be operated with one hand.
Bathroom Aids
Shower Chairs and Tub Benches - Shower chairs with and without backs can be purchased for walk-in showers or bathtubs. For the stroke patient that has a bathtub and cannot step over the side, a transfer tub bench that extends over the side would be more appropriate. Hand-held showers can also be purchased to make showering from a seated position more convenient.

Toilet Seats and Bedside Commodes - Raised toilet seats or toilet seats with handles can be purchased to make standing up from the toilet easier. Be sure to check if existing toilet is standard or elongated to make sure the raised toilet seat fits. If the bathroom is not accessible or the stroke patient needs the convenience of a toilet next to their bed then a bedside commode can be used. If full standing is difficult or assistance is needed for transfers, then a drop arm commode is probably preferred. There are also bariatric bedside commodes and raised toilet seats for larger individuals.


Other Bathing/Dressing Aids
Various adaptive equipment exists to make bathing and dressing easier for stroke victims such as a bathing mitt, hair shampoo tray, long-handled sponge, reachers, long shoehorns, sock aids, elastic shoelaces, dressing sticks, button hooks, and more:



Kitchen Aids
A variety of one handed devices exist for people to use in the kitchen such as one handed cheese slicers, rocker knives, cutting boards with suction cups, and scoop plates:

Hospital Beds
Electric hospital beds make it easier to get a person out of bed or to sit a person up in bed. This can become important for the stroke patient who has a peg tube and swallowing difficulties that require the head of the bed to be raised. It also is helpful for caregivers taking care of stroke patients with limited mobility. 
Hospital beds can be uncomfortable so a regular electric bed may be an alternative, however, be aware of the need for railing with some patients in order to pull themselves up or to prevent them from rolling out of the bed. Hand rails can be bought that are attached to a bed to help with bed mobility. In addition, mattresses should be firm enough to prevent sliding off the bed.
Grooming Aids
Devices used to help with grooming include brushes with suction cups, hair dryer racks, toothpaste squeezers, and various utensils with adapted handles.

Adaptive Equipment for Driving
Able Motion Ability has a product to convert car from right foot accelerator to left foot accelerator
You can find equipment for hand controls and 1 handed wheel  at https://www.ablemotionmobility.com/

Donating or Finding Used Adaptive Equipment
If you have medical or adaptive equipment that you no longer need, you can search the term "donate DME" on the internet to find local DME (durable medical equipment) exchanges or non-profits that will take your equipment to be used for others in need. You can also use that same search term if you cannot afford equipment and want to find a local business that offers inexpensive prices or free DME for those who qualify. 
Newsletter Sign Up
Stroke Rehab Guide
--->PDF Download<---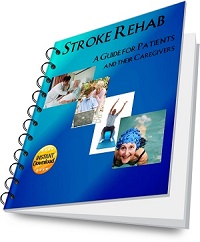 Shop Rehab Products at Amazon
As an Amazon Associate I earn from qualifying purchases.