Central Pain Syndrome
Central Pain Syndrome (CPS) is a condition that can result from a stroke or other neurological conditions. It has been identified by other names including:
* Central Post Stroke Syndrome
* Posterior Thalamic Syndrome
* Dejerine-Roussy Syndrome
* Post Stroke Pain
* Thalamic Pain Syndrome
* Retrolenticular Syndrome
* Thalamic Hyperesthetic Anesthesia

CPS effects approximately 8% of all stroke patients according to a 1996 article from the Journal of Neurology, Neurosurgery, and Psychiatry.
Symptoms
CPS pain is often relentless and can effect small areas of the body such as the hands and feet or large portions of the body. The pain is often moderate to severe and has been described by various stroke patients as burning, pins and needles, aching, sharp pains, a wet sensation, throbbing, or as if a probe has been applied to a raw nerve such as in a dental procedure. CPS pain is commonly characterized by hypersensitivity to touch and temperature. Many who experience Central Pain Syndrome may wear light clothing or avoid bed covers to keep pressure off of the skin. The pain can appear immediately after having a stroke or have a delayed onset of months or even years after a stroke.

Treatment Options
Treatment for post stroke pain may include the following:
Medications - Antidepressants, anticonvulsants, and less commonly narcotic painkillers.
Intravenous Lignocaine Infusions
TENS - Transcutaneous Electrical Nerve Stimulation
For other post stroke pain treatment information including therapy and alternative treatments, visit www.stroke-rehab.com/pain-after-a-stroke.
Surgery including Deep Brain Stimulation or Motor Cortex Stimulation
Unfortunately, treating CPS can be difficult and may require changing meds several times to find something that works. Meds may have to be started at lower dosages, taken long term, and gradually increased in dosage to prevent adverse side effects. Many times, medication will only take the edge off the pain but not eliminate it. Physicians are often unfamiliar with CPS so it is important to seek the advice of a physician with experience in neurological and post stroke pain. This may be your neurologist or other qualified pain management doctor. A consistent complaint of CPS patients is that doctors don't understand what they are going through. This makes it important to do a little research before visiting a physician to treat your pain. I recommend visiting some online support groups and information pages about Central Pain Syndrome arming yourself with knowledge and questions to ask your physician.
Effects of Central Pain Syndrome
CPS interrupts daily life and can have negative psychological impact including depression, anxiety, excessive worry, withdrawal, apathy, and sleep disorders. Caregivers will need to have patience and be supportive because patients with CPS are often in so much pain that they care little about anything else. Caregivers should assist the stroke patient in finding medical help if the patient is unable to do so. 
For more info on Central Pain Syndrome, visit https://rarediseases.org/rare-diseases/central-pain-syndrome/
Newsletter Sign Up
Stroke Rehab Guide
--->PDF Download<---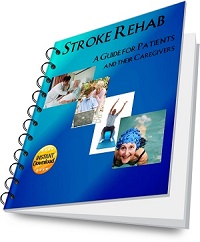 Shop Rehab Products at Amazon
As an Amazon Associate I earn from qualifying purchases.
DISCLAIMER: THIS WEBSITE DOES NOT PROVIDE MEDICAL ADVICE. All content on www.stroke-rehab.com is for informational or educational purposes only, and does not constitute professional medical advice, diagnosis or treatment. Always seek the advice of your physician or other qualified healthcare provider regarding your healthcare concerns, and never disregard professional medical advice or delay in seeking it because of something you have read on this website. See the disclaimer and privacy policy page for more information.