Stroke Support Groups
Stroke support groups are meetings for stroke survivors and their families where they are allowed to discuss issues about stroke with other people who have been in a similar situation. This support helps stroke victims overcome challenges and keeps them from becoming isolated. Many rehab hospitals offer support group meetings or at least will be able to refer patients to a local meeting.
Many people have apprehension about attending such groups, but one can also find support groups or forums online which allow for anonymity and privacy if desired. These groups can be one of the most valuable tools for both stroke patients and caregivers so the sooner one can become involved the better. Valuable information and encouragement can be gained from other patients and caregivers that have been through or are going through similar circumstances. It can be valuable for caregivers to attend a stroke patient support group, however, it is equally important for caregivers to get involved in a support group of their own so they can freely discuss issues that involve patient care without feeling guilty or worry about offending their loved on.
In-Person vs. Online Stroke Support Groups
In-person stroke support groups and online support groups each have their own distinct benefits and downsides. When deciding between an online and in-person support group, individuals should consider their personal preferences, ability to use technology, transport issues, and geographical constraints. If face-to-face interaction, physical activities, and a stronger emotional connection is valued more, an in-person support group might be the preferred choice. Alternatively, those seeking convenience and flexible participation may find an online support group to be a better alternative. Let's delve into the differences between the two.
In-Person Stroke Support Groups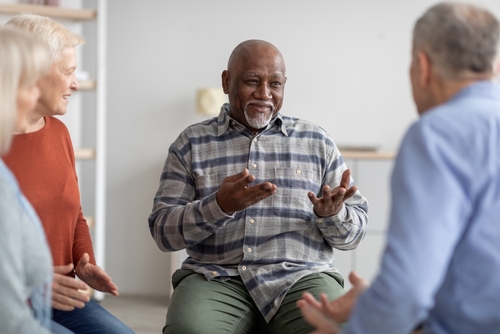 Attending a stroke support group in person offers the ability to interact with others face-to-face and allows for stroke survivors and caregivers to develop a stronger sense of camaraderie, empathy, and emotional connection with individuals. In-person gatherings also can include physical activities or special outings that promote active engagement and enhanced social opportunities.
One downside for in-person groups is possible geographical limitations. For instance, those living in rural or outlying areas may not be able to find a group near them. Another downside is scheduling conflicts. In-person groups are often only offered once or twice a month on specific days which may not fit with the stroke survivor or caregiver schedule.
To see if there is a support group in the US in your area, you can use the American Stroke Association's Stroke Group Finder.
To find a support group in the UK, go to https://www.stroke.org.uk/finding-support/support-groups
Most countries will have a national stroke association, and this is where you can often find a list of stroke support groups in your area.
Online Stroke Support Groups or Forums
Online stroke support groups provide several advantages, such as greater convenience and flexibility, the ability to attend meetings from the comfort of one's home, and allowing individuals from diverse locations to join and share experiences. There are support groups online that have organized meetings, but stroke patients and caregivers can also go to online forums and simply ask and answer questions anytime they wish. Online forums also allow for individuals to read through questions or answers others have posted.
The downside to online groups is the lack of face-to-face interaction which may hinder the development of strong emotional bonds and make it challenging for some individuals to open up about their experiences fully. Additionally, technical difficulties or limited internet access can pose obstacles for certain individuals, potentially reducing engagement and hindering meaningful connections within the group.
Some online groups have been identified below:
Support group on dailystrength.org
https://www.reddit.com/r/stroke/ - a helpful community of people discussing stroke questions and experiences (a forum rather than specific stroke support group) - beware of scams/talking to strangers
Do You Have Recommendations for Support Groups?
If you have a national or online support group resource you would like added to this page, please contact the webmaster at info@stroke-rehab.com.

Share Your Knowledge or Inspirational Stroke Stories
Have you had a stroke experience that you think will be inspirational or helpful to share with others? Provide your experience with rehab, being at home, dealing with doctors, etc. that you think will help other stroke survivors and caregivers.
What Other Stroke Survivors and Caregivers Have Said...
Click below to see contributions from other visitors to this page...


Stroke Survivor Experiences

I did not know I was having a light stroke. I thought I was having a migraine headache. I did however take two aspirins for the migraine. This was at 9am. …
Newsletter Sign Up
Stroke Rehab Guide
--->PDF Download<---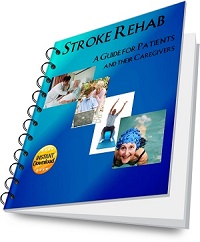 Shop Rehab Products at Amazon
As an Amazon Associate I earn from qualifying purchases.
DISCLAIMER: THIS WEBSITE DOES NOT PROVIDE MEDICAL ADVICE. All content on www.stroke-rehab.com is for informational or educational purposes only, and does not constitute professional medical advice, diagnosis or treatment. Always seek the advice of your physician or other qualified healthcare provider regarding your healthcare concerns, and never disregard professional medical advice or delay in seeking it because of something you have read on this website. See the disclaimer and privacy policy page for more information.