Home Exercise Equipment

| | |
| --- | --- |
| | After a stroke, one may wonder what home exercise equipment would be helpful in recovery.  Below are some examples of various rehab equipment available for home use.  Please note that equipment will be right for some patients but not for others.  Check with your physical or occupational therapist to see which equipment and stroke exercises are right for you.   |
Stroke-rehab.com does not sell rehab equipment. You can visit websites like www.medexsupply.com, www.usmedicalsupplies.com, www.wayfair.com, www.activeforever.com, www.pattersonmedical.com and other medical supply sites or your local medical supply stores if interested in purchasing rehab equipment like the types found below.
---
Pedal Exerciser - This can be put on a table to use for the hands and arms or put on the floor to exercise the legs: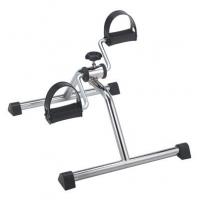 ---
Finger and Grip Strengthening
- Hand Exercisers and Putty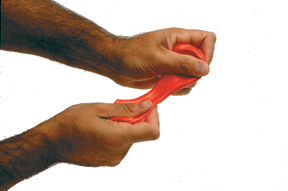 ---
Balance Training – Balance board and large exercise balls:


---
Strengthening
- Bands, Tubing, Dumbbells, Ankle/Wrist Weights: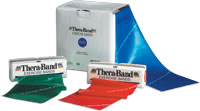 ---
Coordination - Pegs, lacing beads, bean bags, clothespins, Chinese balls:

For other coordination and hand exercises, click
here
.
---
Arm Skate
– Assists arm range of motion: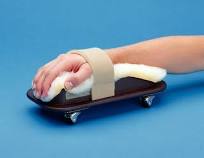 ---
Other Household Items

Besides the home exercise equipment mentioned above, one can also use simple items around the house for therapy exercises.  Examples of items you may already have around the house that can be used for stroke rehab include:
Balls (i.e. soccer, basketball) - These can be used for weight bearing to the weak hand, rolling with the weak hand, bilateral activities such as lifting the ball, or coordination activities such as catching, throwing, or kicking the ball.
Household Tools (i.e. nuts and bolts, screwdriver) - Tools can be used to work on fine motor coordination for the stroke patient that has hand movement but lacks quality of movement.
Return from home exercise equipment to stroke rehab home page.