Ask the Therapist Your Stroke Questions
Many times patients and caregivers have questions about stroke rehabilitation. You may have been discharged from therapy and do not have access to a rehabilitation therapist. You may want a therapist's opinion. You may not have been able to afford therapy in the first place and are looking for rehab information. As an occupational therapist with over 25 years of experience in stroke rehabilitation, I am able to answer your questions or find the answer from other therapists and sources.
Submit your questions below regarding stroke rehabilitation. Please check the questions previously asked to make sure your question has not already been asked by another visitor. Any questions that are duplicated will not be answered. I personally recommend viewing the questions below, searching this website, and reviewing the resources and stroke rehab exercises tabs prior to submitting a question as you may find your question has already been answered. Thank you for your help with this as it can be very time consuming answering questions especially those that are asked repeatedly.
If you cannot find the answer you are looking for, please feel free to submit your question! If I do not have the answer you need, I will try to direct you to resources where you can get an answer.


Do you have a stroke rehabilitation question?
Submit your stroke rehab related questions, and a rehab therapist will provide you with answers or site sources where you can find answers. Please note that answers provided on this website are for informational purposes only and are not professional medical advice, diagnosis, treatment or care, nor are intended to be a substitute. Always seek the advice of a physician or other qualified health provider concerning questions you have regarding your health or a loved one's health concerns.

PLEASE READ: Before asking your question, please search the questions below or enter a search term in the search box in the top left corner of this website to see if a question similar to yours has already been answered. You can also visit the stroke blog page to find recent updates and questions added to my website. If a similar question has been asked (especially several times), then your question will not be published in order to avoid repetition. Please note that a therapist cannot answer questions such as "Will I get better" or "Can I expect a full recovery". Only questions within the scope of the therapists' knowledge will be answered. Thanks!
Questions about stroke submitted by others:
Click below to see questions from other visitors to this page...

Newsletter Sign Up
Stroke Rehab Guide
--->PDF Download<---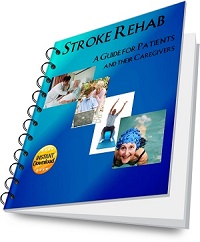 Shop Rehab Products at Amazon
As an Amazon Associate I earn from qualifying purchases.
DISCLAIMER: THIS WEBSITE DOES NOT PROVIDE MEDICAL ADVICE. All content on www.stroke-rehab.com is for informational or educational purposes only, and does not constitute professional medical advice, diagnosis or treatment. Always seek the advice of your physician or other qualified healthcare provider regarding your healthcare concerns, and never disregard professional medical advice or delay in seeking it because of something you have read on this website. See the disclaimer and privacy policy page for more information.