---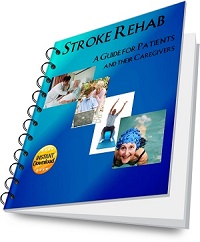 Stroke Rehab Guide      Exercises Included!   CLICK HERE
Get your stroke rehab questions answered by a therapist! CLICK HERE
Mar 27, 19 04:46 AM

Answer: Nine years ago I had a stroke due to lack of oxygen. Prior to that being very successful in school came easier usually with A's and B's. Now I

Mar 27, 19 04:23 AM

Question: My sister had a stroke. She cannot take care of herself. She needs 24/7 supervision and someone to bathe, clean, help her with bathroom issues,

Mar 27, 19 03:56 AM

Emotional and mental issues are not uncommon after stroke. Discover what you should do if your loved one is experiencing such issues.
Share your stroke
treatment or exercise
recommendation.
Click Here

Share your stroke survival story - CLICK HERE!