Stroke Rehab e-book: A Guide for
Patients & Caregivers 

Overwhelmed by the stroke rehabilitation process?

Do you need exercises with photos that you can do at home?   

Experiencing information overload with all the material online? 

Looking for caregiver resources or stroke support groups?
Searching for a rehab guide without all the confusing medical terms?

Stroke Rehab: A Guide for Patients & Caregivers is a one of a kind e-book that can help answer your questions about stroke and guide you in your rehabilitation process!

immediate pdf download

Written by a certified stroke rehab therapist with over 20 years experience!
The stroke rehab dilemma:
The cruel reality is that many patients don't have access to the latest technologies, treatments or facilities nor do they have the funds to travel and get specialized treatment

Scouring the internet for stroke information on your own can be exhausting, and you may not have the time to research all the various websites or rehab techniques 

Once information is found, you may not understand the confusing medical terms and technical jargon

Many patients receive insufficient rehab and often have not been equipped with the knowledge to advance their rehab program at home

Caregivers often receive only very limited training and guidance. 
If you are a patient or caregiver, this Stroke Rehab e-book was created to help you get the information you need. 
The stroke rehab guide is a comprehensive manual with exercises, resources and information that can be used immediately
What to expect from this e-book:
Learn techniques of stroke rehabilitation to use at home

Receive a list of stroke resources 

Find out about adaptive equipment and home exercise equipment

Get an all-in-one-guide that is easy to understand. 

Receive over 130 photos of easy to follow exercises

Learn how to progress your home rehabilitation program

Get answers to multiple questions submitted by stroke patients and caregivers

Affordable cost with i

mmediate delivery as a simple pdf download.

   
Topics covered in this stroke guide include:
Neuroplasticity

Range of Motion 

Sitting Balance 

Standing Balance 

Weight Bearing 

Regaining Arm Control

Arm and Leg Exercises

Constraint Induced Movement Therapy

Fine Motor Coordination

Sensory Re-education 

Edema Management

Cognitive Retraining (Brain Exercises)

Vision Exercises

Dysphagia, Dysarthria, and Oral Facial Exercises

Aphasia

Compensatory Techniques

Adaptive Equipment

Home Exercise Equipment Suggestions

Adaptive Clothing 

Stroke Websites and Resources

Caregiver Websites and Resources

Stroke Support Group Information

Clinical Trial Information

Questions from Stroke Patients and Caregivers
Sample Questions Asked by Stroke Survivors and their Caregivers in the Stroke Rehab e-book:
How soon can I fly after a stroke?

What can I do to treat shoulder subluxation?

Why does my loved one lack motivation?

How should we deal with mood swings?

What is the treatment for flaccid stage of stroke?

Is there treatment for vision problems after stroke?

How do you treat left side neglect?

How can you decrease excessive drooling after stroke?

Is there a typical stroke rehab plan for a patient?

What kind of massage is appropriate for a stroke patient?

Why did I have a stroke?

What can be done for the patient who feels like they are falling?

What can be done to help urinary incontinence after stroke?

and more!!
About the Author:
Karen Murray is a rehab professional that has worked for over 20 years as a licensed occupational therapist and has extensive experience working with stroke patients. The author's experience includes:
Master's Degree in Occupational Therapy

Bachelor's Degree in Kinesiology/Health Promotion and Fitness.

Certified Stroke Rehabilitation Specialist

ACE Certified Personal Trainer

ACE Certified Fitness Group Instructor

Certified in Saebo fitting

Certificate in Advanced Practice in Hand and Upper Quarter Rehabilitation from Drexel University

Trained in various stroke rehab techniques
Stroke rehabilitation is her passion, and she has written this book to aide stroke survivors and their caregivers.
Ordering Information:
Order your Stroke Rehab Guide today and download the pdf e-book immediately.  

Payment is done securely through Paypal (you do not have to have a Paypal account to purchase the e-book).  

Click the Add to Cart button below to start your purchase.  

If you have suggestions or recommendations for additional material to be added to this e-book or want to submit a review, please feel free to contact info@stroke-rehab.com.  

Once you purchase the e-book, all future updates to the Stroke Rehab e-book are free to you. 

Currently, the only file format available for download is pdf.  
Hard copies are not available,
this is an e-book pdf download only.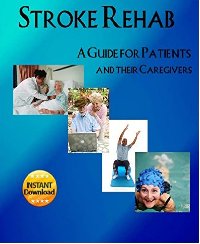 Order the Stroke Rehab e-book Now for $14.99 
Return from stroke rehab e-book to stroke-rehab.com main page