Submissions from Readers
Toilet Lift for Stroke Patient
Question: I am the sole caregiver for my wife. I am 77 years old and fit, but had a heart attack about 8 years ago. My wife is hemiplegic (right side paralyzed). She had a colectomy and vaginal fistula. She has to go to the toilet to defecate 10-15 times a day. Because of the fistula, she has to wear a pad which has to be changed often. Of late, she is unable to transfer from the wheelchair to the toilet. I have to support her to transfer. Is there any equipment available which will make transfer easy?


Answer:
They make toilet lifts which might help you with the transfer as long as you are strong enough to turn her to the chair. The good thing about the lifts would be that you could elevate your wife above the toilet to help clean her, and you wouldn't have to do the lift from sit to standing. I personally do not have experience with toilet lifts so I can't say how much of a help it would be or which one is best.
If she is totally dependent and can't bear weight through her legs, you could consider a hoyer lift. They have slings with a whole cut out for the purpose of toileting. The hoyer lift can be used for other transfers as well. I think it would be difficult to keep the hoyer lift clean, however,
if she is having to toilet that frequently. I do have experience with hoyer lifts and though they are not difficult to use, I think it could be very cumbersome trying to use one multiple times during the day plus they're bulky and might not fit in the bathroom.
Whatever you decide to use, you need to look into insurance paying for it as well as getting the physician to write a prescription for the equipment you need. I would talk to the company who provides the lift to find out how to get insurance to cover the product. Below are two examples of toilet lifts (one cheaper and one more expensive) as well as a hoyer lift. You might be able to find other options as well by searching online for toilet lifts or toilet transfer lifts.
I also recommend getting the physician to prescribe therapy to help your wife improve her transfers especially if she has experienced recent decline. You could have a therapist come to your house. I don't know a lot about fistulas, and I'm sure you've seen her doctor, but I would definitely ask about options for getting it fixed or seeing if a permanent ostomy bag might be an option (again not my area of expertise so don't know if this is an option).
The products below are some examples of lifts.
Uplift Commode Assist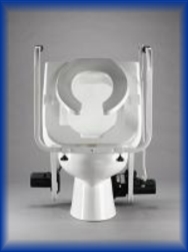 Tush Push 2 Deluxe Toilet Lift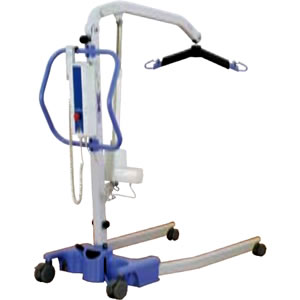 Hoyer Lift



Exercise Board for Lower Extremity

Question: Hello,

I am a physical therapist who is currently working with tumor removal patient who would benefit from the table top with small legs for gravity lessoned hip ext/flexion and knee flex/extension. Do you know where I could find one. THanks so much.

Cindy

Answer: I believe you are talking about a powder board therapy table such as the one below which is about 7 inches high, and the person lies on their side with the leg on the table:




If so, just click the pic above to be taken to the medical supply website that offers it or you can do a Google search or image search for powder therapy board do see other options.
Join in and write your own page! It's easy to do. How? Simply click here to return to Stroke Rehabilitation Questions.
One Handed or One Arm Drive Wheelchair?
by Robert
(Bryan, TX USA)
Question: Does someone make a wheelchair in the USA that can be operated with only one hand (not a motorized one)?

Answer: One arm drive wheelchairs are designed for individuals to drive using one arm. One needs to have good coordination and strength in the arm that will be used to operate the wheelchair. The one arm drive wheelchairs can use either a double rim or lever system.

A double rim system has two handrims located on the same side that control the rear wheels. The outer handrim controls the wheel on that side of the wheelchair and the inner handrim controls the wheel on the opposite side of the wheelchair. You must use both rims at the same time to propel straight forward or backward. To turn the wheelchair, the user pushes the handrim that controls the wheel on the opposite side of the wheelchair or pulls backward on the handrim that controls the same side of the wheelchair. There are also lever one arm drive wheelchairs, but I am less familiar with those.

I looked around and there are several companies that sell one arm drive systems that can be purchased to attach to wheelchairs. There are systems that can be attached to the Excel K4 and Quickie LX/LXI wheelchairs. You can find out more about these systems at:

www.dmesupplygroup.com

or

www.southwestmedical.com

Invacare also offers one arm drive options for their Invacare Tracer SX5 Deluxe Wheelchair. You can find a provider of Invacare wheelchairs in your area by visiting the Invacare website:

www.invacare.com

Here is a website that shows you the options available on the above mentioned Invacare wheelchair:

www.1800wheelchair.com

If you contact a dealer, and they are unfamiliar with the one arm drive system, I would contact the manufacturers directly.
Rowing Machine for Leg Strength Improvement
Question: My wife suffered a stroke in June and has been in wheelchair since. I got her a stationary bike which has helped a great deal. She can now with a walker make it about 50 feet. I don't want her to over do it. I was wondering after she gets stronger, would a rowing machine be good for leg strength? Thank you.

Answer: Rowing machines are good for leg strength, however, the question would be is your wife capable of using a rowing machine safely without injury. Some stroke patients who have gone through recovery may very well be able to use a rowing machine whereas many would not. It all depends on the amount of movement/range of motion and strength that your wife possesses. If your wife improves to the point that you think she could use a rowing machine then I would make sure she is able to actually try one out first before a purchase was made. If she has had a therapist involved in her care, you could consult with them for their opinion as well. I'm not sure where one could try out a rowing machine, but my guess would be possibly a fitness center or sporting goods store.


Join in and write your own page! It's easy to do. How? Simply click here to return to Stroke Rehabilitation Questions.
Where to buy the pedal exerciser and other stroke equipment?
by Khang Tran
(Westminster, California, USA)

Question: I'd like to buy some home equipment for stroke patients. Please tell me where to order online or to buy (I live in Orange County, California). Thank you.


Answer: One website that I have found to have good prices for home equipment is ActiveForever.com. They have been featured on Oprah before, and their prices are better than most websites I have visited. Before purchasing any equipment, I suggest doing an online search for the equipment you want and then comparing prices on various websites. An online search for specific equipment will pull up multiple merchants, and then you can pick which one has the best pricing.


Join in and write your own page! It's easy to do. How? Simply click here to return to Stroke Rehabilitation Questions.