Submissions from Readers
How to improve stroke
by Sultan
(UK)

How do you improve patient's hand, fingers, and leg movement? Please tell me some exercises for my mother. Thanks.




Answer: If your mother already has some movement in her hand and fingers then I would recommend some of the exercises from this website's hand exercises page at www.stroke-rehab.com/hand-exercises.html.

If she does not have any movement or only little movement in her hand, then I recommend trying to put weight through the arm to facilitate sensory input. This can be done by placing the hand on a firm surface and helping to support her elbow while she leans into the hand. When there is little movement in the upper extremity, it's best to eliminate gravity as much as possible and provide assist as needed. I often place the hand on a ball and see if the patient can elicit movement. If approved by her MD, you could talk to a therapist about using electrical stimulation to facilitate movement.

Some simple hand and arm exercises I use after a stroke are as follows (stretch the hand prior to exercises):

1) Place patient's open hand on ball and have them work on just keeping the hand on the ball without assistance

2) Once they can keep the hand on the ball, try rolling the ball gently side to side and forward and back

3) Once they can roll the ball, place both hands on the sides of the ball (soccer ball works well) and try to lift the ball off their lap using both hands and

without the weak hand falling off

4) As they are able to lift the ball, work on lifting the ball higher or moving it side to side

5) Work on taking weak hand off the ball slowly and with controlled movement

6) Once they can move hand off/on ball with some control, work on placing hand on smaller objects such as a plastic cup and letting go. Progress to trying to lift the cup.

Some other options to help facilitate return of the hemiplegic arm include using e-stim with a therapist or tapping the muscles you are trying to stimulate. If trying to close the hand, turn the palm up and tap the forearm muscles. If trying to open the hand, turn the palm down and tap the back of the forearm.

Weight bearing is also good for the leg. If your mother is able to stand, have a therapist show her how to shift weight onto the weak leg and work on weight bearing on the affected side. A physical therapist can also show you tapping techniques to help facilitate movement. For example, to elicit straightening the knee, you would tap the top of the thigh.

If you are looking for therapy ideas, I suggest looking on You Tube for stroke rehab exercises. Many therapists and patients have recorded their therapy sessions which might give you ideas on what would work for your mother. You should always consult a therapist or physician that has worked with your mom to make sure any exercises would be appropriate for her.

Treatment Tips from Others 
To see tips from other survivors and caregivers about their treatment recommendations, click here.
Newsletter Sign Up
Stroke Rehab Guide
--->PDF Download<---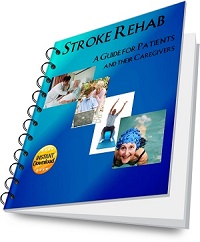 Shop Rehab Products at Amazon
As an Amazon Associate I earn from qualifying purchases.
DISCLAIMER: THIS WEBSITE DOES NOT PROVIDE MEDICAL ADVICE. All content on www.stroke-rehab.com is for informational or educational purposes only, and does not constitute professional medical advice, diagnosis or treatment. Always seek the advice of your physician or other qualified healthcare provider regarding your healthcare concerns, and never disregard professional medical advice or delay in seeking it because of something you have read on this website. See the disclaimer and privacy policy page for more information.