Spasticity in legs
by Kevin A
(Lake Geneva WI)
Question:Over the last four years I've had several strokes. Due to this I have spasticity in my legs that prevents me from walking any distance at all. I can walk maybe two minutes before my legs freeze up. After that I have to drag my right foot and I am unable to lift my knees. Also it seems that my tendons tighten up behind my ankles to a point where they seem as if they are going to snap.

My neurologist is completely ignoring this. He continues to tell me to continue to walk even when I tell him that I am unable to walk and I describe what is happening. He tells me that it appears that I can walk because I manage to "walk" into his office. He has me walk across the exam room, which is about five feet and he tells me that it looks okay. I can't shop or go for walks or do anything else but he tells me that it looks alright.

For the last four years I was misdiagnosed with diabetic neuropathy and it wasn't until I insisted on seeing a neurologist and got MRI's that I found out all these problems were due to strokes. What can I do? Any information you can offer would be appreciated.

Answer: I would definitely get a second opinion from another neurologist if your current MD is not addressing your concerns. I really urge all patients to be their own advocate. You cannot always rely on medical professionals to listen and address your needs, and it is absolutely okay to seek second opinions. In fact, I encourage it especially in situations where the patient is seeking answers but not getting them.

I have no secret method to get rid of the spasticity in your legs, but I can relay to you information about the different ways spasticity is treated. Everyone is different so what may work for one person may not work from another. Also, some treatments cannot be used on certain individuals due to contraindications. Treatments that are currently used include:

1) Physical therapy including such techniques as range of motion, stretching, strengthening, temporary braces or casts, tone inhibition techniques, electrical stimulation, and biofeedback.

2) Oral medications such as baclofen, imidazolines, benzodiazepines, dantrolene sodium and gabapentin.

3) Botulinum toxin or Botox injections to temporarily paralyze spastic muscles.

4)ITB Therapy - placement of intrathecal baclofen pumps. Intrathecal Baclofen is delivered directly to the spinal fluid and usually has less side effects that oral baclofen.

5) Surgery such as selective dorsal rhizotomy which involves cutting selective sensory nerve roots.

My advice is to talk to another neurologist and discuss the treatment options above to decide if any would be appropriate for you.
Join in and write your own page! It's easy to do. How?
Simply click here to return to Stroke Rehabilitation Questions.
Spasticity Problems After Stroke
Question: What exercises may help if a patient cannot raise the palms of his hands e.g. to say goodbye of as if to give a blessing? The patient cannot unfold his hands on his own either.

Answer: I recommend stretching the fingers out and then placing them on a surface to do weight bearing through the hand. If the fingers can be stretched out enough for the hand to be flat then you can place the hand on a book, table, or mat, and have the patient lean over the hand putting weight into the arm (a caregiver can block the elbow if it tends to collapse). This helps decrease the spasticity.

If the hand cannot be stretched out enough to be flat then place it on a curved surface instead such as a soccer ball. Then have the patient bear weight on the ball or the caregiver can raise the ball bending the patient's wrist back and have the patient try to push the ball away while the caregiver is holding it. This provides stretch and weight bearing to the hand and wrist.

Once the hand is stretched and spasticity is decreased, have the patient try to lift the wrist back on his own several times. If the tone increases again, go back to weight bearing to decrease the tone and have the patient try to lift the wrist again. Also have the patient try to open the fingers. If the patient is unable to lift the wrist or open the fingers, tap the back of the forearm to help elicit the movement.

If the patient has no contraindications, electrical stimulation can be used by a therapist to help stimulate the muscles that open the hand. Talk to the patient's therapist to see if getting a home e-stim unit would be an option.

There is also a rehabilitation device called the Hand Mentor that can be found in some clinics. The Hand Mentor encourages self initiated movement in the wrist and fingers and assists movement only when necessary. The Hand Mentor has three different program types which are designed to reduce spasticity, improve motor control and recruit specific muscle groups. This device would only be offered in a therapy clinic, however.
Join in and write your own page! It's easy to do. How?
Simply click here to return to Stroke Rehabilitation Questions.
SPASTICITY ON LEFT LE
by Mary
(Chicago, IL)
Question: I have a patient with a grade 3 spasticity on B UE/LE and the patient cant hardly stand up and maintain balance due to left hip and knee flexor synergy. What type to brace I can recommend on him?

thanks,
Mary

Answer: Unfortunately, my expertise is not in leg braces. I know in reading literature that bracing can be difficult when trying to improve gait with flexion synergy in the LE. I am not able to recommend a brace to improve gait and standing, but I would consider knee bracing/splinting to prevent contractures if knee flexion is a problem at other times besides when attempting to stand. There have been some positive studies when using e-stim in addition to splinting if done on a regular basis. I generally use progressive dynamic splints on the upper extremity.

One activity you might try is applying an air splint on the flexed knee when attempting to stand. This might allow for some increased weight bearing and tone reduction on that side and would also free up your hands to help with hip and trunk posture. The patient could then attempt shifting weight side to side, lifting the stronger leg (i.e. on and off a step), or side stepping allowing weight bearing on the weaker leg. The air splint is not meant for gait as it will interfere with the gait pattern but definitely could be using for standing exercises. Obviously, I do not know your patient, but I suspect if the knee and hip are flexed, there is very little weight bearing going on in standing. Weight bearing can help reduce the spasticity as you probably know.

If you have any reputable bracing/splinting representatives that you deal with (I recommend that they have a clinical background), I would ask for their opinion.

For information on purchasing air splints, click the picture below: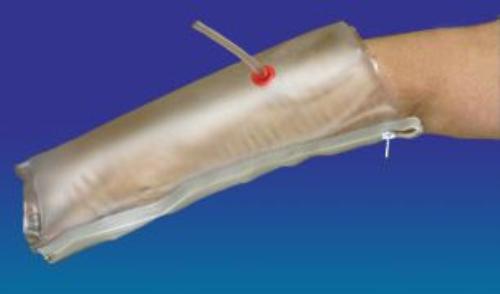 Join in and write your own page! It's easy to do. How?
Simply click here to return to Stroke Rehabilitation Questions.
Decreasing Tone
by heather
(wellsville,ny)
Question: Does mobilization of the trunk result in a decrease of tone in the arm and should it be done prior to weight bearing with the involved arm?

Answer I always perform mobilization of the trunk prior to weight bearing with the involved arm. Muscles in the trunk and surrounding the shoulder blade (scapula) often have tone or are shortened/elongated due to muscular imbalance caused by the stroke.

If you mobilize the trunk first, mobilization of the shoulder blade will be easier which in return allows for improved range of motion in the shoulder and arm. This is the sequence I follow when trying to reduce tone in the arm:

In a lying position on the back:
1) Trunk & pelvic mobilization (one way to do this is have the patient bend their knees with feet flat on the bed and take the knees side to side and then practice rolling toward the involved side). Make sure you have a therapist show you how to do this safely before trying it on your own.
2) Scapular mobilization (shoulder blade)
3) Stretching of the shoulder, elbow, wrist & hand
I then have the patient come to a sitting position and do the following:
4) Trunk and scapular mobilization in sitting
5) Weight bearing of the hand and arm

I plan on adding examples of these exercises as well as others as I expand this website. You are welcome to subscribe to my RSS feed which will let you know anytime I update or add to my site.
Join in and write your own page! It's easy to do. How?
Simply click here to return to Stroke Rehabilitation Questions.
Spasticity, Botox, and Phenol Injections
by Gilbert
(Prospect Park, NJ )
Question: Is botox or phenol therapy a good idea for a stroke survivor?

Answer: Botox and phenol can be injected into specific muscles to reduce spasticity. This reduction in spasticity can be beneficial allowing increased range of motion for activities of daily living or potentially allowing for more active movement. These treatments can be highly effective for some and less effective in others. A physician experienced with botox and phenol injections can determine if a stroke patient is a good candidate for these treatments.

Adverse reactions to botox can include nausea, fatigue, bronchitis, muscle weakness and limb pain. Botox has been approved by the FDA for treatment of spasticity in the elbow, wrist, and fingers in stroke patients (specifically the flexor muscles). Botox comes with a warning that it is produced from the same bacterium that causes botulism and has the potential to spread beyond the treated area and cause symptoms similar to botulism. Side effects from phenol can include pain and burning/tingling and swelling of the injected area.

Botox and/or phenol may be beneficial for individuals having problems with spasticity and these options should be discussed with a physician.
Click here to read or post comments.
Join in and write your own page! It's easy to do. How?
Simply click here to return to Stroke Rehabilitation Questions.
Extreme Spasticity on Affected Side
by Mimi
(Raleigh, NC, USA)
My father was 57 when he suffered a severe stroke in 2007. He is essentially paralized on the left side. Four years later, however, his primary issue continues to be extreme cramping in his left foot, leg, and arm. He has tried multiple medications, such as Baclofen, but has not had any relief. It is hampering his ability to walk, sleep, etc. Are there any other treatment options for extreme spasticity - whether scientific/medical, homeopathic, therapy?

You can find out about spasticity treatment options by visiting www.stroke-rehab.com/spasticity.htm
Join in and write your own page! It's easy to do. How?
Simply click here to return to Stroke Rehabilitation Questions.
Ankle Spasticity After Stroke Due to Venous Sinus Thrombosis
by Rahul
(Mumbai)
Question:My mother suffered from stroke following venous sinus thrombosis. She has recovered well and now the only problem area is her ankle, which is still spastic. Dorsiflexion at ankle is difficult and it goes into external rotation can you suggest some exercises to tackle that?

Answer: Ankle spasticity can be approached in several ways. Here is a list of treatments ranging from conservative in nature to surgical techniques:

1. Daily stretching - stretch the ankle into dorsiflexion until the point of discomfort and hold for 60 seconds. Repeat twice daily.

2. Range of motion exercises - foot circles rotating the ankles one way then the other, raising the foot off the floor (ankle dorsiflexion), rock back and forth on the toes then heels in a standing position (support hands on wall), and trying to pick up objects such as marbles with the toes. Perform 10 repetitions of each exercise twice daily. Equipment can be used to help with stretching and exercises such as the foot rocker below.






3. Electrical stimulation (e-stim) - this technique can be used on some patients as long as they don't have contraindications for use (check with MD to see if patient is a candidate for e-stim). E-stim may help reduce spasticity as well as strengthen weak or spastic muscles.

4. Splinting - an ankle foot orthoses (AFO) can be made to position the ankle and keep it on a static stretch. Dynamic splinting (splints allowing ankle motion) and serial casting are also available.




5. Medication - various medications can be administered by a MD to control spasticity. Examples of such medicines may include baclofen, dantrolen sodium, and Zanaflex.

6. Nerve Blocking Injections - examples include phenol and botulinum toxin.

7. ITB - Intrathecal Baclofen Pumps can be surgically placed to deliver baclofen into the subarachnoid space of the spinal cord to help reduce spasticity.

8. Surgery - One common surgery technique includes an anterior tibial transfer to help straighten and balance the foot. A more extreme surgery is a dorsal rhizotomy which involves disrupting the nerve supply to the muscle.
Join in and write your own page! It's easy to do. How?
Simply click here to return to Stroke Rehabilitation Questions.
Tone
Question: My 5 yr old had a stroke 8 mos ago. She has produced quite a bit of tone in her left hand sometimes making it difficult to open her hand, grab and release objects. The OT said that once tone sets in you cannot get rid of it. Is this true? This is the first therapist that has told me this.

Answer: I have seen stroke patients go through stages of initial flaccidity, increasing tone, and then into more normal movement so I don't agree that once tone sets in, you cannot get rid of it. However, I will say that the persons I have seen overcome tone usually do so in the first few months after stroke. This is not a proven fact but just my own personal observation with patients. Patients that I've seen with high tone for an extended period of time often do continue to have problems with tone.

From your post, it sounds like your daughter is able to grasp and release objects at times when the tone is not too high. The good thing for you to know is that there are ways to manage or decrease tone allowing for more functional movement in those that do have movement present. A technique that I teach patients to help control the spasticity is weight bearing. Though weight bearing does not get rid of tone, it often will lessen it so that the patient can move more freely. I would ask your therapist to show you ways to manage your daughter's tone and also teach those techniques to your daughter. Hopefully that will enable your daughter to relax the hand enough for improved grasp and release. Sometimes it works and sometimes it doesn't.

There are also medical means to control spasticity that work for some but not for others. My experience is with adult clients so I don't know if all the same options are available for children. You can read about various medical management strategies for spasticity at www.stroke-rehab.com/spasticity.html

Spasticity is really just managed or controlled at best in most cases. Spasticity that subsides in some patients in my opinion appears to occur as part of the healing process. After the acute healing has occurred and tone is still present, it often continues to linger in my opinion. Please note that this is only an opinion from my observations with stroke patients. My advice to you is to ask your daughter's physician about the prognosis for tone and to learn spasticity inhibition techniques from the therapist to help your daughter manage the tone as best she can.
Join in and write your own page! It's easy to do. How?
Simply click here to return to Stroke Rehabilitation Questions.
Spastic Arm
by nizam
(karachi, pakistan)
Question: I am 67 years old. I had a stroke iast year now my right arm is so stiff. Please help.

Answer: Nizam, I have a webpage about spasticity and treatment options. You can go to stroke-rehab.com/spasticity.html for information.


Join in and write your own page! It's easy to do. How?
Simply click here to return to Stroke Rehabilitation Questions.